It Started in 1918...
W.R. Johnson Sr. came to the high deserts of southern New Mexico when it was still part of the untamed west. New Mexico had only been a state for six years, and Pancho Villa had raided and burned nearby Columbus only two years earlier, but W.R. Johnson saw a valley with enormous beauty and potential - the Carzalia Valley.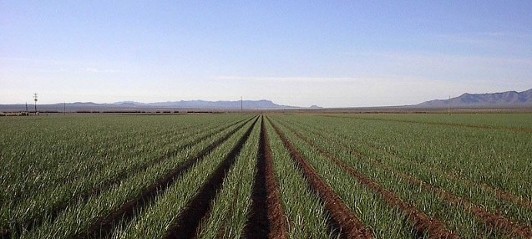 The high desert of deep southern New Mexico provides very hot days and cool nights which, when coupled with meticulous farming and irrigation practices, allows Carzalia Valley to grow superior produce. From chile and onions to watermelons and pumpkins, our produce is shipped all over the United States, overseas, and everywhere premium produce is in demand.
Our relationships with New Mexico State University, New Mexico Department of Agriculture, U.S. Department of Agriculture, seed breeders, and irrigation specialists keep us at the forefront of technology. This allows us to provide you with the sweetest onions possible.
Hours of Operation: Monday–Friday, 8 a.m.– 5 p.m.
Associations:
National Onion Association (NOA)

New Mexico Taste the Tradition Program (NMDA)

Produce Marketing Association (PMA)

Cotton Council www.cottonusa.org
Sales Agent : L&M Produce, www.lmcompanies.com or call 919.981.8000