Carzalia Valley Produce is consistently updating equipment as well as reviewing varieties to improve efficiency and th emarketability of the produce. Relationships with New Mexico State University, the New Mexico Department of Agriculture, the United States Department of Agriculture, numerous seed breeders and irrigation specialists keep Carzalia Valley Produce at the forefront of technology. Embracing change and improvement has allowed Carzalia Valley Produce to remain as one of the most modern produce farms in the United States.
From the Land
The high deser of deep southern New Mexico provides very hot days and cool nights which, when coupled with meticulous farming and irrigation practicies, allows Carzalia Valley to grow superior produce. From chile and onions to watermelons and pumpkins, our produce is shipped all over the United States, overseas, and everywhere outstanding produce is in demand.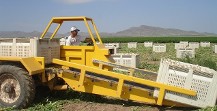 Our Land

Carzalia Valley Produce has over 3,000 acres of farmland currently being cultivated for the upcoming season.

All cultivated land has sub-surface irrigation, monitored directly by members of the Johnson family, and is under 24 hour-a-day surveillance by the United States government.

PRIMUS certified Carzalia Valley Produce takes product safety very seriously.